Infant Laser Tongue & Lip Tie
Frenectomies
Some children can be born with a multitude of oral conditions which can be easily treated.  Two of the conditions are call tongue-tie or lip-tie which occurs when soft tissue or the frenum is attached to the upper lip or under the tongue of the child.  This can lead to problems with breastfeeding, movement restrictions, airway difficulties, dental decay, speech, and even digestive issues.  Our pediatric dental office is here to provide you with factual information about lip-ties and tongue-ties (both anterior and posterior) to make the best decision for your child.
The good news is that this can be easily treated with a painless procedure right in our office using a soft tissue laser.  We are committed to providing this service in a non-judgmental, professional and comfortable setting for both the parent and child.
Lip & Tongue Tie Example
The Procedure
The Soft Tissue Laser we use is gentle, safe, sanitary, and we find, the best of its kind.  You can trust Dr. Adam as he has performed more frenectomies than any other dentist in the Seacoast Region.
Our laser has the most up to date technology, increasing surgical precision as well as improves healing, and reduces pain and swelling. Our CO2 Laser is gentle, safe, sanitary, and we find, the best of its kind.  Dr. Adam performs hundreds of frenectomies a year. He has been the Seacoast area's number one referral by pediatricians, speech/swallow therapists and lactation consultants.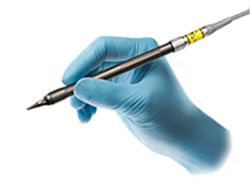 LightScalpel CO2 Laser
The frenectomy procedure is done in our dedicated exam room right at our location in Greenland, so there is no need to travel to a surgery center.  Our frenectomy treatment is provided by a knowledgeable and seasoned pediatric dental specialist, Dr. Adam, and is available for infants & children as well as adolescents and adults who are experiencing symptoms from lip & tongue ties.
The goal of the treatment is to release the tongue or lip tie with the use of our highly specialized laser.  Generally, there is no bleeding, no pain, and no sutures needed after the procedure is completed.  The procedure can be done in one day within a matter of minutes and is typically often covered by insurance.
What makes our office special in regards to this procedure is our dedicated surgical recovery suite that provides a quiet and calm location for babies & their parents to relax and recuperate. This private space also allows babies to "practice" feeding and be soothed after the procedure. Most parents notice an immediate change in the feeding process!